DOROTHY DAY HOSPITALITY HOUSE


Feeding the hungry and sheltering the homeless in the Danbury CT area since 1982




Shelter closed July 1-31. Kitchen is still open.

Overnight shelter volunteers needed!! See "volunteer" page for details.

See our "news" page for what's happening at Dorothy Day House.


---
Dorothy Day Hospitality House serves 60-80 hot meals each afternoon and provides shelter to 16 people each night. If you are in need to a meal or lodging, please click "if you need help" on left.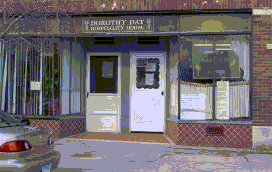 All work at Dorothy House is done by volunteers -- there is no paid staff

Dorothy Day Hospitality House is based on the Houses of Hospitality founded by Dorothy Day during the Great Depression. Dorothy Day Hospitality House is not formally affiliated with any religious organization, and people of all faiths participate in our work

Click on the links on the left to find out more



"Do not neglect to show hospitality, for by that means some have entertained angels without knowing it" - Hebrews 13:1-2


---
Dorothy Day Hospitality House
11 Spring Street, Danbury CT
Mailing Address: PO Box 922 Danbury CT 06813-0922
Tel: (203) 743-7988
E-mail: webmaster@dorothydaydanbury.org
Please email if you would like to be added to our "supporters" list


---
Home | Mission & History| News | What We Do
Volunteer | Wish List | Donate | If You Need Help| FAQ |
Hours and Directions | Other Activities at Dorothy Day
Privacy Policy